---
Posted by Charlotte Hayes on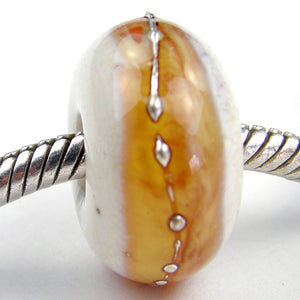 Ivory Handmade Large Hole Lampwork Glass Beads with a Transparent Light Amber Topaz Band Wrapped in Fine Silver     Ivory handmade large hole lampwork glass bead with a transparent light amber topaz band wrapped in fine silver and a shiny glass bead finish.  These European style handmade glass bracelet beads will fit popular European charm bracelets, snake necklaces and leather cord bracelets and necklaces.     One (1) handmade large hole lampwork bead Ivory and light amber topaz .999 Fine silver Shiny bead finish   Size: app 14-15mm Bead hole size: app 5mm Fits Euro style bracelets    Lampwork...
---
Posted by Charlotte Hayes on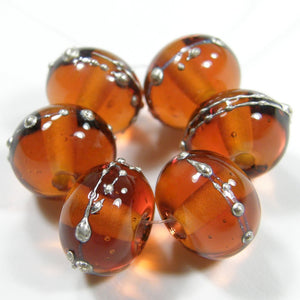 Luxurious rich topaz colored beads are perfect for your Fall jewelry bead collection.   Medium Amber Topaz Handmade Lampwork Glass Beads Wrapped in Fine Silver Glossy transparent medium amber topaz handmade lampwork glass beads wrapped in .999 fine silver with a shiny bead finish.   These gorgeous beads are made using glossy transparent medium amber glass. It is the second shade of ambers with a rich amber topaz brown color. They are a beautiful golden honey color. I have wrapped them with .999 fine silver. They have a shiny glass bead finish.   Qty: 1 bead Measurements: 10-11mm Hole Size:...