---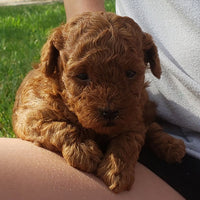 Visit www.radiantredpoodles.com for a black, cream, apricot or red poodle puppy.

This poodle puppy is not available in my Shopify store.  She is ONLY available through my RadiantRedPoodles.com website.  Be sure to check her out there under available puppies to find out if she is available or any others that may be on there from time to time.
Red Female Poodle Puppy Gingerie 070123.